After watching DH1 three times, loving all the harmony scenes -especially the dance- I felt more delusional than ever and very proud of it I must to say, that's why I wanted to make this: a picspam of Harry and Hermione through the years. Because they're my OTP. They have brought me the most precious thing in my life: friendship. Friendship of people from almost around the world and I feel so blessed for knowing them.

So, I made this in honor to Harry and Hermione, to my friends (you know who you are) and to all the harmony people. Hope you like it

Rules
+ Do not hotlink
+ Don't claim any of this work of your own
+ Do not repost it in any site without my permission
+ Comments are love
+ Enjoy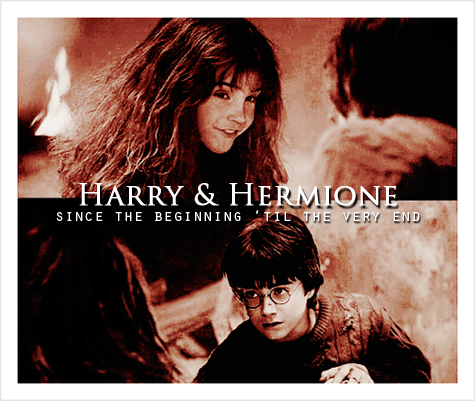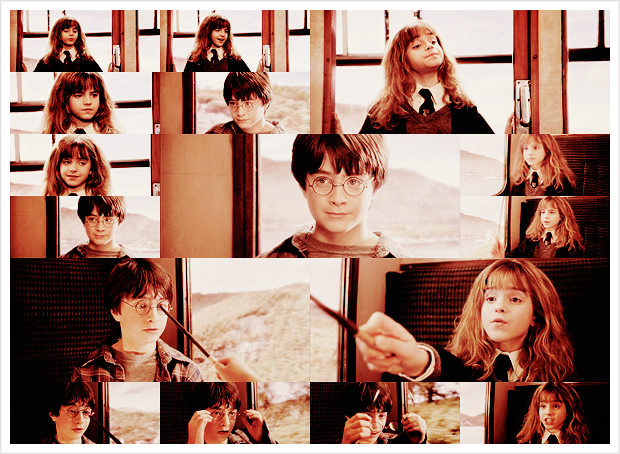 "Harry Potter," said Harry.
"Are you really?" said Hermione. "I know all about you, of course -- I got a few extra books. for background reading, and you're in Modern Magical History and The Rise and Fall of the Dark Arts and Great Wizarding Events of the Twentieth Century.
"Am I?" said Harry, feeling dazed.
Hermione: Are you sure that's a real spell? Well, it's not very good, is it? I've only tried a few simple ones myself... but they've all worked for me. For example: Oculus Reparo. That's better, isn't it?
Holy cricket, you' re Harry Potter! I' m Hermione Granger.
"Granger, Hermione!"
Hermione almost ran to the stool and jammed the hat eagerly on her head.
"GRYFFINDOR!" shouted the hat. Ron groaned.
A horrible thought struck Harry, as horrible thoughts always do when you're very nervous. What if he wasn't chosen at all? What if he just sat there with the hat over his eyes for ages, until Professor McGonagall jerked it off his head and said there had obviously been a mistake and he'd better get back on the train?
Professor McGonagall: I shall place the Sorting Hat on your head...
...and you will be sorted into your houses.
Hermione Granger.
Hermione: Oh, no. Okay, relax.
Ron: Mental, that one, l' m telling you.
Sorting Hat: Right, then. Right. Okay. Gryffindor!
- - - - - - - - - - - - - - - - - - - - - - - - - - - - - - - -
Professor McGonagall: Harry Potter.
Sorting Hat: Difficult, very difficult. Plenty of courage, I see. Not a bad mind, either.
There's talent, oh, yes. And a thirst to prove yourself. But where to put you?
Harry: Not Slytherin, not Slytherin!
Sorting Hat: Not Slytherin, eh? Are you sure? You could be great, you know. It's all here, in your head. And Slytherin will help you on the way to greatness, no doubt about that.No? Well, if you're sure. Better be... Gryffindor!
"What is the difference, Potter, between monkshood and wolfsbane?"
At this, Hermione stood up, her hand stretching toward the dungeon ceiling.
"I don't know," said Harry quietly. "I think Hermione does, though, why don't you try her?"
Professor Snape: Mr. Potter, our new celebrity. Tell me what would I get if I added root of asphodel to an infusion of wormwood? You don't know? Well let's try again.
Where Mr. Potter would you look if I asked you to find me a bezoar?
Harry: I don't know, sir.
Professor Snape: And what is the difference between monkswood and wolfsbane?
Harry: I don't know sir.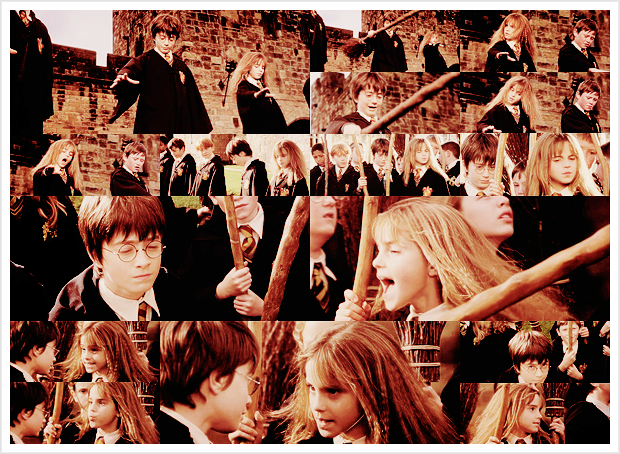 "Give it here!" Harry yelled, but Malfoy had leapt onto his broomstick and taken off. He hadn't been lying, he could fly well. Hovering level with the topmost branches of an oak he called, "Come and get it, Potter!"
Harry grabbed his broom.
"No!" shouted Hermione Granger. "Madam Hooch told us not to move -- you'll get us all into trouble."
Harry: Give it here Malfoy.
Draco: No, I think I'll leave it somewhere for Longbottom to find. How about on the roof?
What's the matter Potter? Bit beyond you reach?
Hermione: Harry! No way! You heard what Madame Hooch said.
Besides you don't even know how to fly! What an idiot!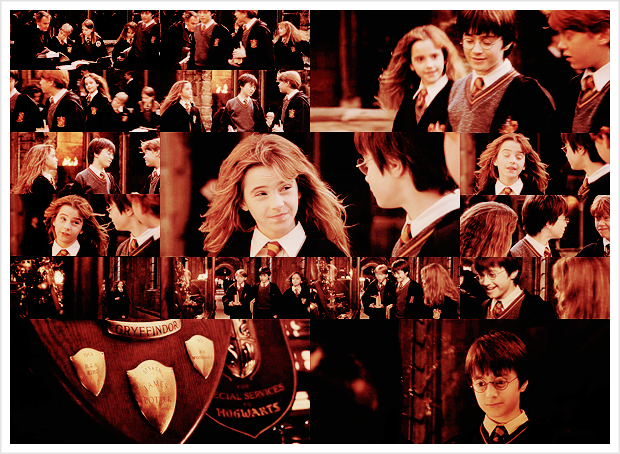 Professor McGonagall peered sternly over her glasses at Harry.
"I want to hear you're training hard, Potter, or I may change my mind about punishing you."
Then she suddenly smiled.
"Your father would have been proud," she said. "He was an excellent Quidditch player himself."
"You're joking."
Harry: But I've never even played Quidditch! What if I make a fool of myself?
Hermione: You won't make a fool of yourself. It's in your blood.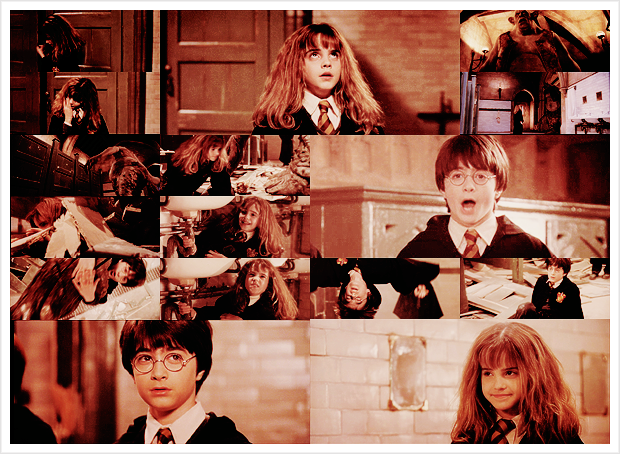 As they jostled their way through a crowd of confused Hufflepuffs, Harry suddenly grabbed Ron's arm.
"I've just thought -- Hermione."
"What about her?"
"She doesn't know about the troll."
Harry: How could a troll get in?
Ron: Not on its own. Trolls are really stupid. Probably people playing jokes. What?
Harry: Hermione! She doesn't know.
- - - - - - - - - - - - - - - - - - - - - - - - - - - - - - - -
Ron: I think the troll's left the dungeon.
Harry: It's going into the girls' bathroom.
- - - - - - - - - - - - - - - - - - - - - - - - - - - - - - - -
Harry: Hermione, move!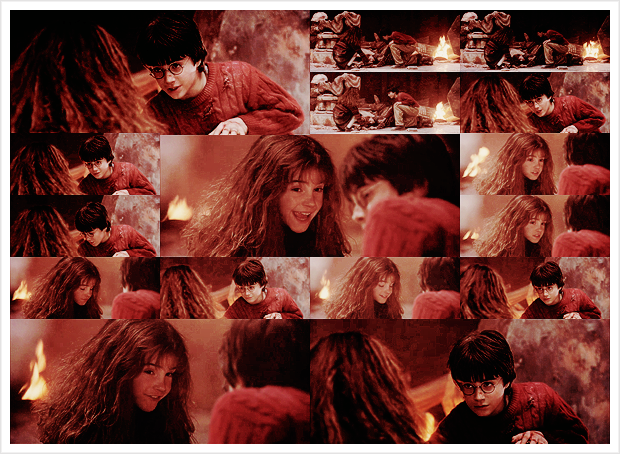 Hermione's lip trembled, and she suddenly dashed at Harry and threw her arms around him.
"Hermione!"
"Harry -- you're a great wizard, you know."
Hermione: You'll be okay Harry. You're a great wizard. You really are.
Harry: Not as good as you.
Hermione: Me? Books! And cleverness! There are more important things.
Friendship and bravery and... oh Harry, be careful!
"Harry!"
Hermione looked ready to fling her arms around him again, but Harry was glad she held herself in as his head was still very sore.
"Oh, Harry, we were sure you were going to -- Dumbledore was so worried--"
Harry: Alright. Hermione?
Hermione: Never better.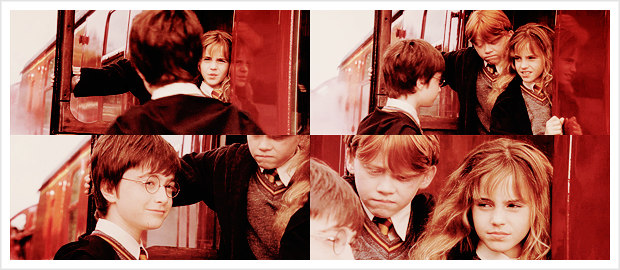 "Hope you have -- er -- a good holiday," said Hermione, looking uncertainly after Uncle Vernon, shocked that anyone could be so unpleasant.
"Oh, I will," said Harry, and they were surprised at the grin that was spreading over his face. "They don't know we're not allowed to use magic at home. I'm going to have a lot of fun with Dudley this summer...."




Hermione: Feels strange to be going home doesn't it?
Harry: I'm not going home. Not really.





+ Screencaps
+ Please, DO NOT repost this. I have my own Tumblr.
+ Thanks for watching